For many, a Galapagos cruise vacation is the trip of a lifetime. The islands are a must-see for anyone who hasn't been to them.
As many other travelers, I had long wanted to go on a Galapagos cruise vacation. After seeing photos of the islands in National Geographic, I was hooked. Since then, they have fascinated me.
They were formed by volcanoes in Pacific 600 miles (970km) from Ecuador's coast. These currents have made the islands a volcanic wildlife Park.
Charles Darwin first made the Galapagos famous after visiting them in 1835.
In recent years, the islands have seen a surge in popularity. Because you can find unique species in these islands, they attract thousands of tourists each year.
You will find sea lizards that look a lot like godzilla, birds with red or blue feet, albatrosses with eight-foot wingspans, and giant tortoises over 100 years old weighing over 500 pounds. Fortunately, they are a UNESCO World Heritage Site.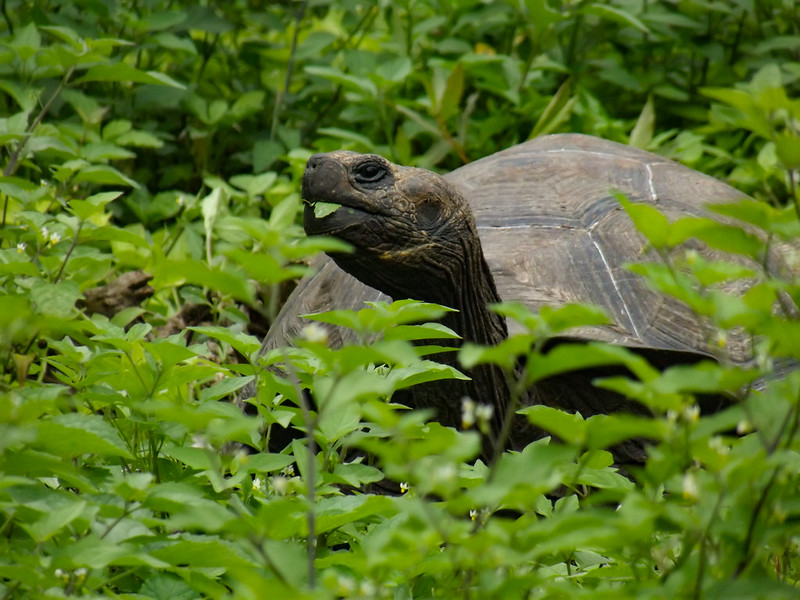 The Ecuadorian government, to its credit, is providing protection by imposing strict restrictions on visitors to the islands. The Ecuadorian government has also set limits on where tour companies can travel on a given day. It is much more efficient than having four ships dropping hundreds of people on the same beach. You won't be cramped by other tour groups on day-hikes as you explore the nature trails that lead to the interior of each island.

Galapagos Vacations: The Best Part
Galapagos cruise vacations are great because you can be close to the animals, as they don't fear humans. One of our hikes saw a bird land on the head of one woman when we stopped to listen. Other birds would land on your backpack, perhaps listening in on the conversation.
We were allowed to walk daily up to sea lions, birds, and other wildlife as long as they didn't fear us. Guides explained that it was illegal to touch any animal or bird, and that picking up objects was against the rules.
Our luxury catamaran was also home to wildlife interactions. The captain mentioned that he had seen dolphins on two occasions. These pods were large, larger than I'd ever seen, possibly in the hundreds.
They followed him as he steered towards them. They swam alongside us, diving underneath the yacht and moving from side to side. We soon came across a grey whale, which was swimming slowly along.
The Petrel
Cruising on The Petrel - a luxurious catamaran
We chose The Petrel for our Galapagos cruise vacation.
This is an independent operation, not part of a big company, but run by the Johnjones family, like every small yacht in the Galapagos it is an entrepeneurial project that support the livelihood of local inhabitants of the islands.
It is a modern, comfortable catamaran that can carry 16 passengers and 10 crew. There is also a Galapagos Park certified naturalist on board. It is the perfect size: stable enough for safety and comfort, but small enough to offer intimacy.
The Petrel and other luxury ships offer larger cabins. The Petrel's cabin was 290 sq. feet (27m2) and featured a shower and hot water. It was also amazing to have a private balcony in our cabin. Additionally, although larger ships may offer better stability in rough seas during crossings, during the day time the smaller yachts like the Petrel are able to anchor inside a quite bay with lagoon style quiet waters, while the larger vessels have to anchor out in open seas (vital for those who are prone to seasickness). A smaller yacht always offers better food (more attention to detail).
If you are looking for a larger expedition ship offering a more traditional cruise experience we are happy to recommend the Galapagos Legend - 100 passenger expedition ship - also a locally owned company.
The Petrel had a great naturalist/guide. Guides on most luxury yachts are often more knowledgeable and have a better grasp of English. This is a valuable skill, specially if you don't speak Spanish.
Enjoy Island Excursions from Our Intimate Catamaran
We enjoyed delicious food and wine every day on our Galapagos cruise vacation. The first two days were spent in San Cristobal, then we moved on to Espanola Island. The yacht is usually repositioned at night or after a meal.
The Galapagos vacation day plans included afternoon and morning excursions with lunch back at the yacht. After a short hike, we could spend an hour on the beach or island. Usually, they would share the sand with sea lions.
Sea lions were a hit with everyone since the curious juveniles would jump in the water to play. Sometimes they would just surf and tumble along the shoreline.


We took three hikes on the cruise. While the first hike was relatively easy, it took us through flat terrain into the bush. The second and third were more challenging.
The first required a half-hour hike up a canyon to reach a plateau where red-footed bobies and other birds could be seen. The second -- to see blue-footed and waved albatross as well as marine iguanas -- required walking sticks. It was on rocky terrain.
Another outing was enjoyed on the water. Some people went snorkeling off Zodiacs, while others paddled on the sit on top sea kayaks.
It was a great experience for all. It is thrilling to be able to view rare species of reptiles and birds. It's a wonderful experience to see them in their natural habitats in the wild.
Galapagos Cruise: Some of the animals you'll see
It is amazing to see the diversity and number of wildlife on a Galapagos cruise. Many of these species are only found in the Galapagos because of their isolation and remoteness. These things have not changed much from prehistoric times.
Scientists continue to be amazed by the Galapagos' marine iguanas and albatross as well as their giant tortoises. Many rare species are found in large numbers. Marine iguanas, for example, can be seen basking on beaches by the hundreds. You can sometimes see hundreds of birds simultaneously on certain islands.
Here is a selection of some of the most popular Galapagos animals that you will see during your cruise.
Red-footed Boobies

One of three Booby species found in the Galapagos is the Red-footed Boobies. Their name "booby" comes from the Spanish word "bobo", which means foolish or clown and is a reference to their awkward movement on land.
They are slow and clumsy when taking off and landing but they are strong and agile in flight.
Red-footed Boobies are the smallest of all booby types. They have distinct red legs and feet, and a pale blue bill.
Blue-footed Boobies
Blue-footed Boobies, large and distinctive birds, are found along the Eastern Pacific coast of the islands.
Their plumage is brown with white underparts. Their large, blue feet play an important role in courtship. Adults average around three-and-a-half pounds and have a five-foot wingspan.
The most famous Galapagos birds are the Blue-footed Boobies.
Nazca Boobies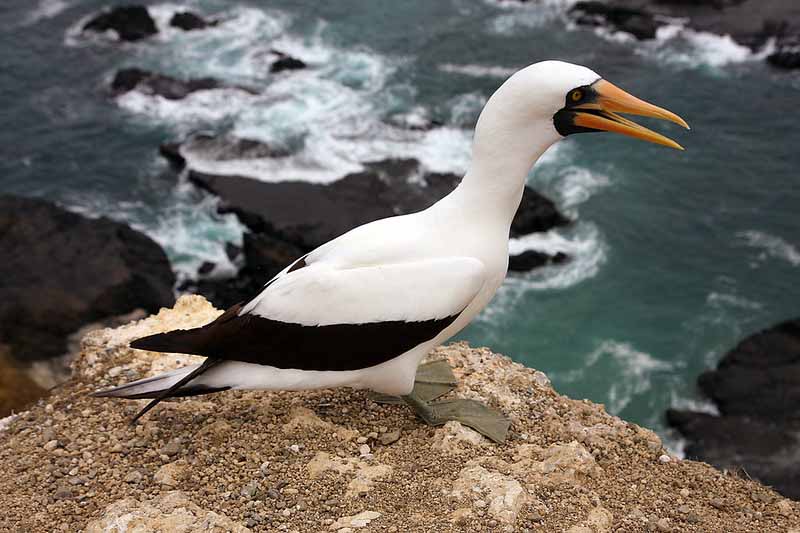 You can distinguish the Nazca boobies by their orange beaks and gray feet.
Galapagos Sea Lions
This species is found primarily on the Galapagos Islands. They aren't 'true seals', but they are one of the largest animals on the island. Some males weigh 600 pounds.
Galapagos Penguins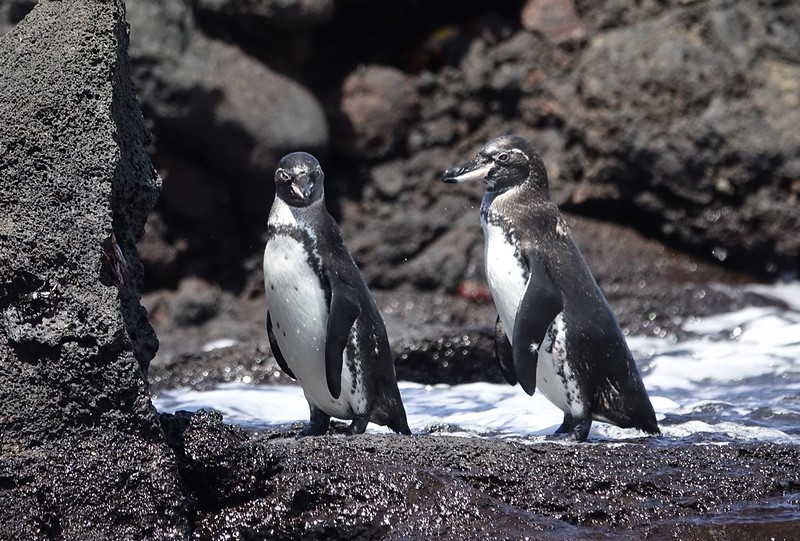 The Galapagos Penguin is one of the most northernly occurring penguin species. Because the equator crosses Isabela Island on Galapagos, some colonies roost there, which is in Northern Hemisphere. It is the smallest penguin in the world, nesting only in tropical areas.
Waved Albatross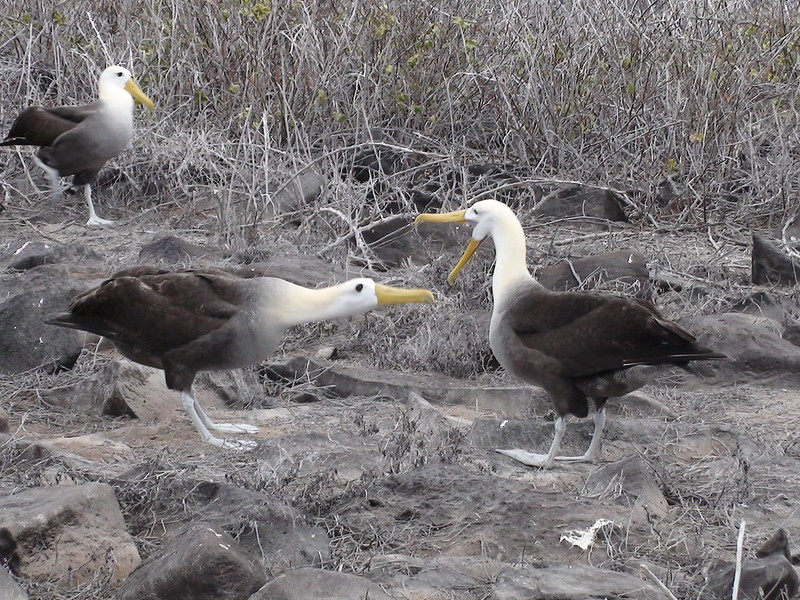 The Waved Albatross, the largest bird in Galapagos, is also known as the Waved Albatross. The wave-like pattern of the adult wings that spans more than 8 feet (22.5 meters) gives it its name.
They are well-known for their long, graceful courtship dances and for their ability to mate for life.
The entire colony moves to an area east the Galapagos, along the coasts between Colombia, Peru, and Peru every January. They spend several months rafting in the ocean, eating fish and squid.
Magnificent Frigatebird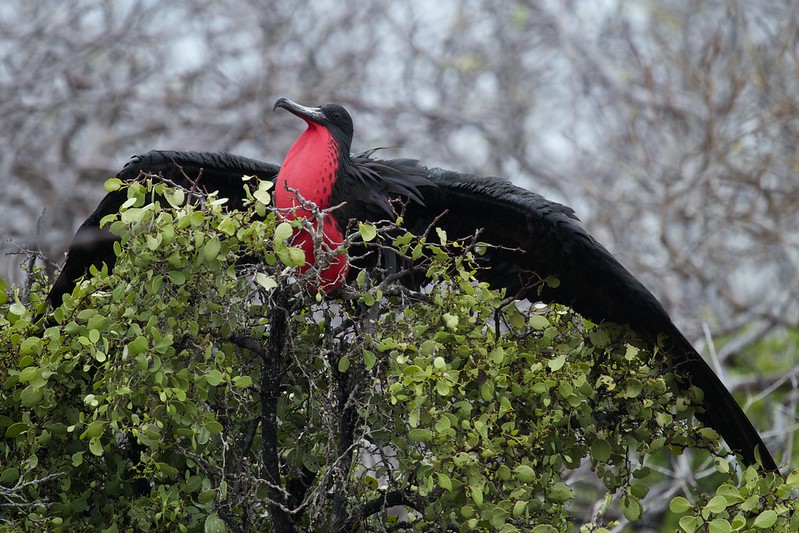 Magnificent Frigatebird males have a distinctive bright red throat pouch that it inflates to attract women. The female is quite different from the male and has a white chest.
Because they steal food from other birds midair, they are known as Pirate Birds.
They have the highest wingspan-to weight ratios of any bird. Its body shape allows it to glide on thermals across the ocean for many days.
Galapagos Hawk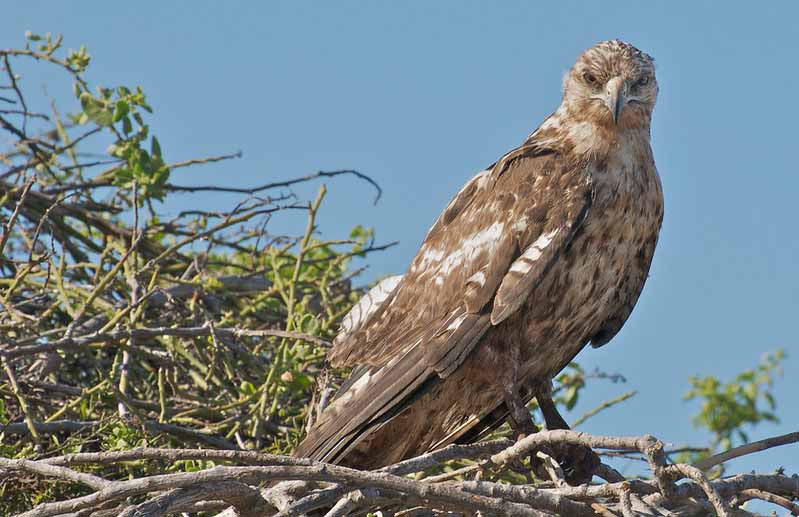 The Galapagos Hawk, closely related to North America's white-tailed and red-backed hawks in North America, is one of the rarest raptors on the planet.
It is a relatively recent arrival in the Galapagos Islands, having colonized the Islands just 300,000. DNA analysis confirms this.
The males are monogamous but the females can mate with up to seven males during the nesting period. These males help raise the chicks. It is, I believe, the most intelligent bird in the world.
Adults are dark brown with almost black plumage. There are approximately 150 remaining breeding pairs in the world.
Galapagos Giant Tortoise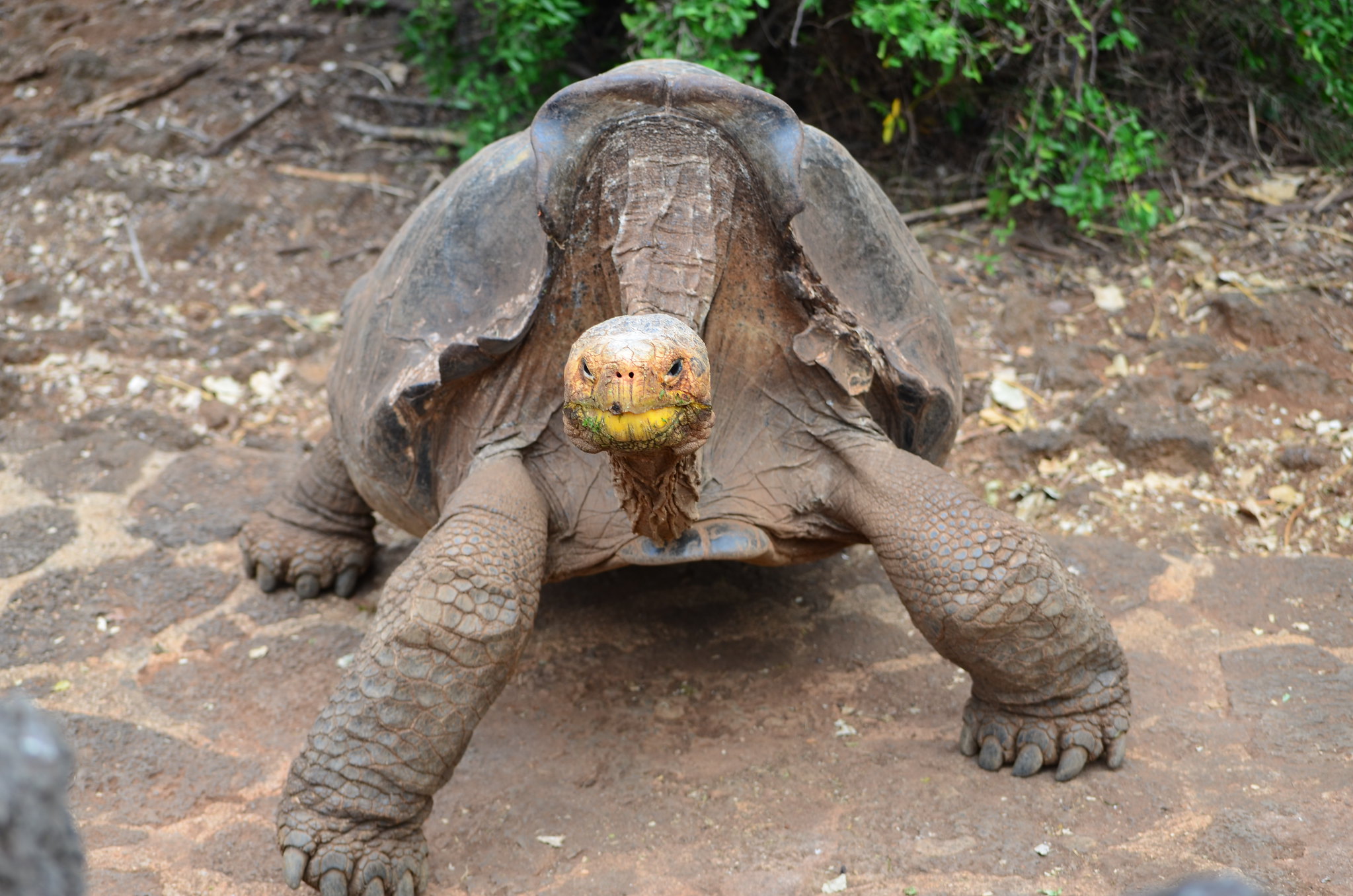 One of the most well-known animals on the islands is the Galapagos Giant Turtle. It gave their name (Galapago, an old Spanish term for tortoise)
It moved from the mainland to Galapagos around 2 million years ago. There, it became 14 different species. Unfortunately, 12 species are still found on the islands today.
Giant Tortoises are one of the longest-lived vertebrates on the planet. They live up to 100 years in nature and over 170 years in captivity.
Marine Iguana

Marine Iguana is the only black lizard on the planet and can live and forage in the sea.
Amazingly, six different subspecies of this iguana exist in the Galapagos. Each is on a different island. The largest species are found on Fernandina, Isabela, and Isabela.
Green Sea Turtle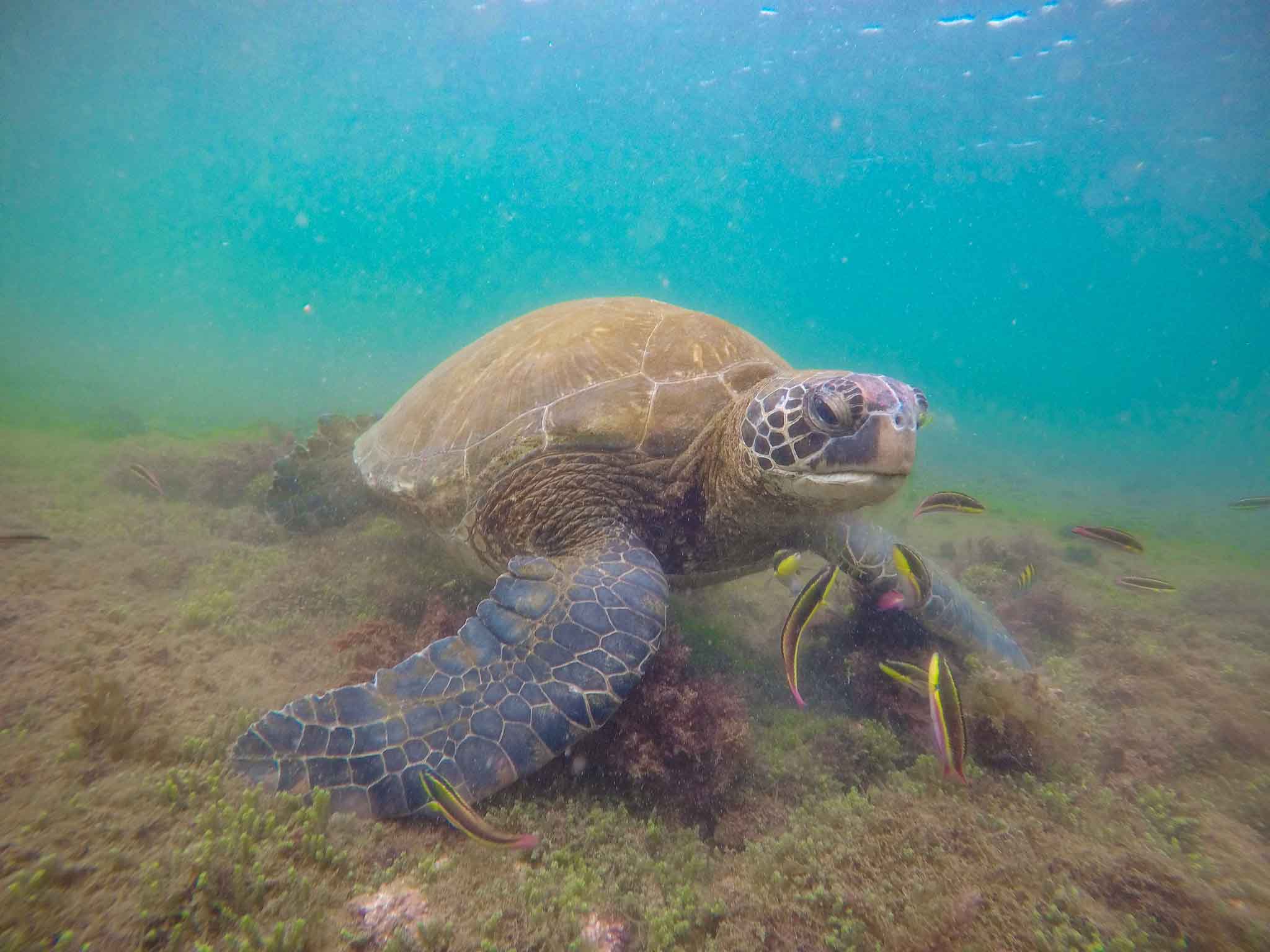 The Galapagos Green Turtle, a rare species in the world and the only sea turtle that nests there, is the Galapagos Green Turtle.
Sally Lightfoot Crab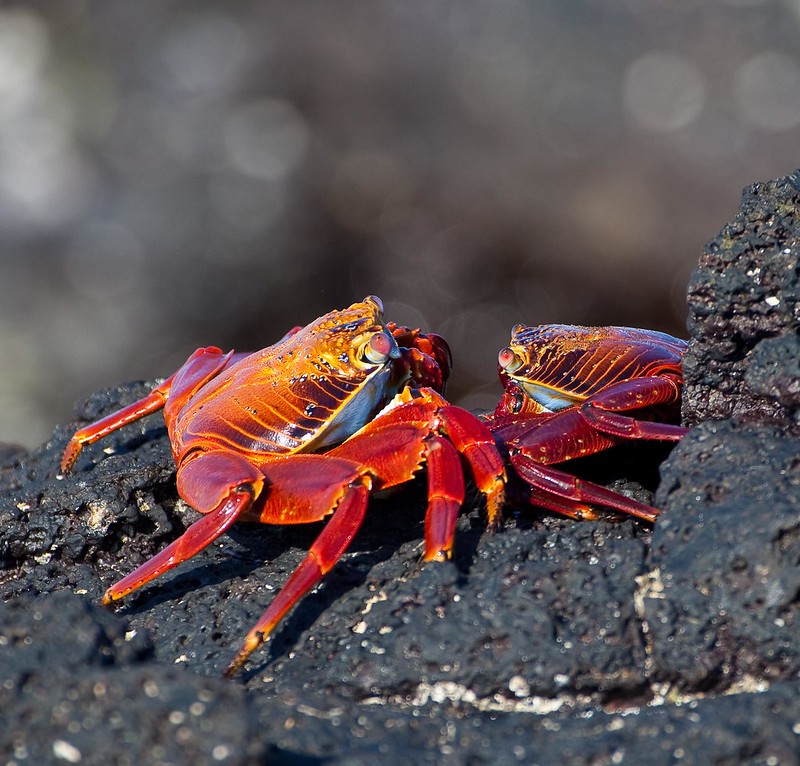 Sally Lightfoot Crabs, brightly colored scavengers that are brightly colored, were rumored to be named after a Caribbean dancer. They can run in all four directions and jump over rocks. They will occasionally shed one of their legs to defend themselves against being disturbed. However, this is a temporary thing that will grow back. They can be found on every island, in great numbers, on rocks and other seaside surfaces.
You'll also find Spinner Dolphins and Humpback Whales in the waters surrounding the islands. Manta Rays, Sea Lions and Manta Rays are all common.
How to get to the Islands and a map of the Galapagos
There is no ferry service between South America and the Galapagos Islands. The only way to get to the Galapagos Islands from Ecuador is to fly first to Quito or Guayaquil, on Ecuador's mainland. You will then board a connecting flight that takes you to the Galapagos Islands, which is approximately a 2 1/2-hour flight.
You will most likely need to stay overnight in Quito and Guayaquil prior to your Galapagos cruise vacation. It may be worth spending a few days in each city. Before flying to the Galapagos, we spent a week in Ecuador. It was a wonderful time.
Some nice places to stay in Quito are:
Villa Colona - An intimate 6 room colonial home in the old town
Casa Anabela - An designer hotel in bright pink colors
ILLA Experience Hotel - Quito's standard for experiential stays and authentic luxury
Where to Dine in Quito:
El Salnes: Chef Mauricio Acuña is an expert in cooking roasted pork, one of Ecuador's staple dishes
La Purisima: A rescue of old recipes located within the water color museum
Inés: This is the new project at THE NEST a gastro project that rescues traditional recipes from rural Ecuador while offering opportunities for young chefs
You will arrive in the Galapagos at one of the two airports: one on the Island of Baltra and one on San Cristobal. You can see the locations of the airports on this map of the Galapagos Islands. Check with your hotel or cruise operator to determine which airport to fly to.
Entry to the Galapagos Islands
These are essential for all travelers, regardless of whether they're embarking on a Galapagos cruise vacation, or staying in hotels and taking day trip into the:
- A passport that is valid for at least 6 months.
- Evidence of both travel and health insurance.
- Roundtrip ticket for the flight, which you must present at the airport
- A health form that must be completed upon arrival in Ecuador.
- Within 72 hours of entry to the Galapagos Islands, a negative RT-PCR (or antigen test) is issued.
- The Transit control card to Galapagos is required before you board your flight to Galapagos.
It is compulsory to wear a mask when you go out in public.
Galapagos: How to Get There

You will need to bring your passport to enter the Galapagos Islands.
The tiny airport on San Cristobal was where we started our cruise to the Galapagos. While you have to clear customs upon entry into Ecuador, this process is repeated upon your arrival in Galapagos. This inspection makes sure that no one brings any seeds or plants to the islands. Otherwise, it could cause damage to the fragile environment.
Every group must be accompanied by a park naturalist in the Galapagos when they travel. After clearing Customs, which seemed to take forever, we were picked up by the naturalist assigned to our yacht.
Even if you are arriving on your own yacht, a naturalist will be aboard with you to help you navigate the islands. A maximum of 16 people can be assigned to one guide who is responsible for protecting the park.
After clearing customs, our guide took us to a bus to take us the five-minute ride to the harbor. We boarded Zodiac dinghies and rode out to the Petrel after passing some sea lions resting on the small pier.
A cruise ship is a great way to travel to the Galapagos Islands. The Galapagos National Park controls the type and number of vessels that can operate within the area. This prevents overcrowding, and reduces environmental impact. I can attest to their efforts.
Officials from Galapagos National Park have also established a maximum of 100 passengers per cruise ship. These restrictions reduce stress on the island animals. You won't see mega-ships in Galapagos like you might in other places, such as the Caribbean.
Galapagos Cruises
You will still find mega-ships absent, but you will see some familiar names as the cruise lines have adjusted to the new rules. National Park officials closely monitor all ships on Galapagos cruise vacations.
Celebrity Cruises currently has three ships in the Galapagos. The Celebrity Flora, a 100-passenger vessel, is the largest. It was built in 2019. Celebrity's Christmas cruises are typically more expensive than other companies. You can also choose from 10- or 16-night packages that include a Peru tour.
Celebrity also owns two other ships, the 48-passenger Expedition as well as the 16-passenger Xploration. This ship is also a catamaran.
Lindblad/ National Geographic owns two ships in Galapagos: the 48-passenger Islandser and 96-passenger Endeavor II, both with 52 outside cabins. The Endeavor I, originally built for 136 people, was reduced to meet local needs.
The Islander provides 7-day cruises in the Galapagos and a 10-day package with a Peru tour. The Endeavor II provides a 10-day package that includes a cruise in the Galapagos, and a 16 day package with a Peru extension.
Silversea Cruises is an upscale cruise line that sails 7-day cruises aboard the 100-passenger Silver Origin.
The Galapagos market will be flooded by Hurtigruten, a Norwegian cruise company. It will arrive onboard the MS Santa Cruz II in 2022. It is well-known for its polar expedition adventures and will offer a 9-day package that includes two days in Quito.
Scuba divers can also live-aboard live-aboard boats. You can also find yachts in the Galapagos. Some of these are used by the above-mentioned cruise lines.
Best Time For a Galapagos Cruise
The warm and dry season in Galapagos runs from January through June. We visited Galapagos in April, and enjoyed perfect weather every single day.
However, the best time to dive and snorkel is June-November. The Humboldt current cools and wetsuit temperatures drop to the low 60s to the low 80s. This brings in rich nutrients. These nutrients attract many underwater species. Many birds also mate between December and May.
Due to school vacations in Northern Hemisphere schools, June-September is also a popular month in Galapagos. However, the sea can be roughest between June and November so bring some seasickness medication.
You may need to book months ahead of time during popular times like mid-December and mid-January.
What to wear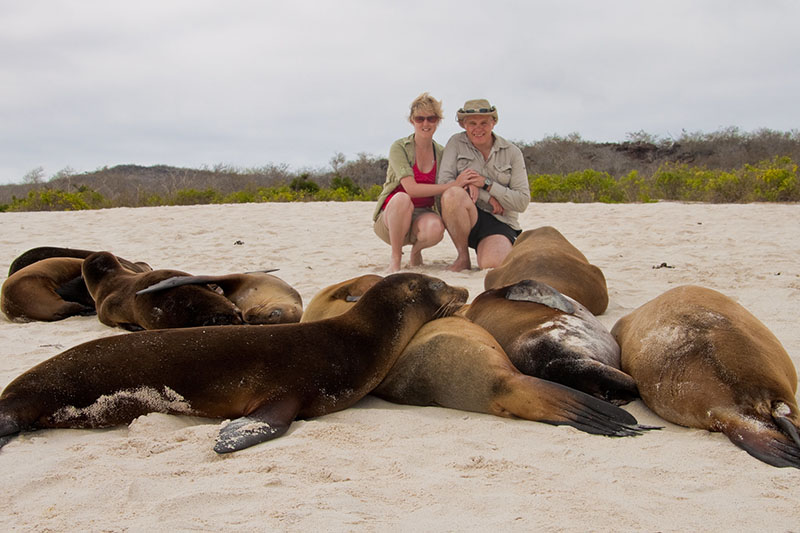 You'll need to bring everything you would normally wear on a cruise (although Galapagos is a casual cruise vacation).
If you are not in great physical condition, some island hikes may be too strenuous. Plan for safety and comfort as some treks take you up steep gorges, or over very rocky terrain.
For daily walks, you will need to bring hiking boots or good walking shoes. Also, lightweight hiking socks are a must.
Tevas are lightweight water-shoes that can be used to climb in and out Zodiac dinghies at wet beach landings. My Tevas were great for the daily hikes as well as the water landing. However, it is important to wear only the one that covers your toes.
You'll need shorts or lightweight pants to go hiking, in addition to your bathing suit. You can bring both long- and short-sleeved shirt. Long sleeves, depending on the season may offer the greatest protection against the sun.
You must protect yourself against sunburn. Keep in mind that you will be on the ocean near the Equator and that the sun can be very intense. You should bring suntan lotion (SPF70 and water-resistant), as well as bug spray. Keep in mind that your airline has a four-ounce limit on liquids.
You should also plan to bring all the items mentioned above with you. Remember that you will be traveling 600 miles to the nearest grocery store and may not be able purchase certain items in the Galapagos.
What Does a Galapagos Cruise Vacation Cost You?
Galapagos is not for everyone, but you can still enjoy it on a tight budget.
The yacht is the main expense on a Galapagos cruise vacation. Even if you only book a hotel, you will still need to cruise around the islands. Booking a smaller yacht or with a local company can save you money. You can online through many reservation portals.
Cruise prices for the season 2021/2022:
The Petrel
A luxury cabin with private balcony on the Petrel starts at $3410 for a 4 day Galapagos cruise
If you wish to stay a little longer there are 5, 6 and 8 day itineraries.
5 day cruise $4595
6 day cruise $5510
8 day cruise US$7,225
If you would prefer a suite there is a 10% surcharge.
Celebrity Flora: Seven-night cruises start at $5,299 and go up to 15,049pp per person. Celebrity Flora's most expensive cruises are, like many companies, for Christmas week. You can also choose from 10- or 16-night packages that include a Peru trip.Celebrity Cruises
Lindblad/National Geographic
The Islander's rates start at $5,900pp for 7 days in the Galapagos and go up to $7,190pp for 10 days including a Peru tour. The Endeavor II offers a 10 day package in the Galapagos starting at $7,560pp. A 16-day package includes a Peru extension starting at $13,760pp.
Silversea Cruises:
Silver Origin offers a 7 day cruise from $11,650 to $13,650pp.
Hurtigruten:
A 9-day Hurtigruten MS Santa Cruz II package will be offered in 2022 by Hurtigruten. It includes two days in Quito. The prices for a Christmas-week cruise will be between $8,417 and $9,630pp.
Prices do not include flights to Ecuador and to the islands.
Additional Fees
You must purchase the Galapagos Transit Card before you check in for your flight from the Galapagos. It can be purchased at the INGALA/CGREG Counter at the airports of Quito and Guayaquil.
It costs $20 per person. Cash is preferred as the card machines can sometimes not work. You've probably been pre-registered for your card if you booked your tour or cruise through a travel agent.
A Galapagos Entry Fee will be charged upon arrival to the Galapagos. This fee is only payable in cash. It costs $100 per adult and $50 for children under 12.
The Gratuity issue
Gratuity is another problem many people face on cruises like these. You can Google the topic to see the number of people concerned about the matter. Gratuities may be included on certain ships but not on all.
Before I left home, I did extensive research on the subject. The consensus was to pay $10 per passenger for the crew, and $12 per person per day for guide/naturalists. Our tour operator recommended that $10 per person be paid per day for the entire crew and $7 for the guide.
A sheet with departure information and a schedule was left in each cabin the night before we embarked from The Petrel. The information also included the topic of gratuities. The crew was asked to pay $50 per guest (not per day) and $25 per naturalist/guide if they provided exceptional service.
A giant tortoise at a Galapagos ranch
We visited the highlands on our last day of the trip, when we stopped at a ranch to get some rest before heading to the airport. As I approached, the giant tortoise made a loud hissing noise as it pulled back into its large shell.
If you decide to Go
Contact us through our home page and we will be happy to assist you in booking the ideal Galapagos cruise for you, based on your preferences and dates.